Jennifer French
|
Friday, January 27, 2012 at 2:39PM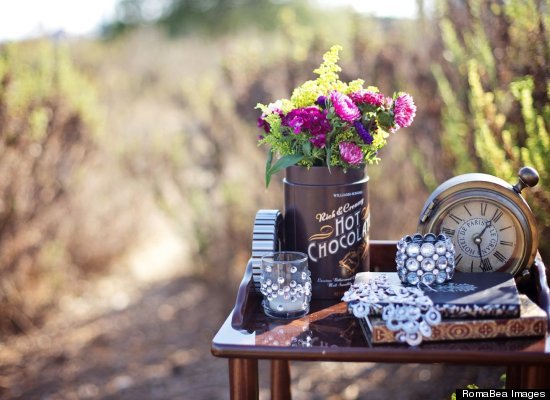 I recently read this article from The Huffington Post, and I just couldn't agree more. Don't get me wrong. I love "vintage" as much as the next person. But, can we agree that the theme in general is becoming, well, vintage, itself? As in, it's in the past…
I think the thing that bothers me the most about what has become of the Vintage aesthetic is that it has gone so far past just having a "vintage feel" to a wedding, to making the wedding all about being "vintage". In other words, it's vintage-for-vintage sake, and no longer about the Bride and the Groom, and their unique personalities and tastes. What do I mean? Well, if the Bride is, say, a writer, and she wants to display an antique typewriter, or say, use some unique vintage typewriter keys she has collected over the years to use as place cards, well, that's great. That actually has meaning in the greater scheme of the wedding. It is a little touch that speaks to who the Bride is, and those little touches are what really make a wedding. Or, if the Bride has a collection of special antique tablecloths she has collected from a favorite grandmother or great aunt, and she wants to use them on her tables at her reception, I think that is a very special touch. But if, say, my Bride works in P.R., lives in an urban setting, loves clean lines and an architectural aesthetic, then why, WHY does she want to have a wedding inspired by the Great Gatsby or an Edwardian novel? (See the bottom of the Huff Post Article which features "Overdone Vintage" for a humorous example of what I'm talking about). Why? Because she is giving in to the overwhelming tide of VINTAGE inspired wedding imagery out there.
So, here's what I'm proposing (no pun intended). Make the wedding about you. What, in real life, are your favorite color schemes, types of design, art, architecture? What are your interests and your hobbies? Do you love to play croquet? Okay, fine, then set up a croquet set out on the lawn at your wedding venue. But if you've never touched a hammer in your life, and you and your beau are more the urban, modern, lets-find-the-next-hot-restaurant type of couple, then feature something along those lines for your guests. Welcome them to your reception with a signature cocktail reminiscent of your first date or something from your favorite city hot spot. Or pull from the vast array of furniture rentals available and create a chic, modern lounge feel and have your floral arrangements be bold, monochromatic, architectural, eco-friendly, or whatever fits with your real style. Don't give into the pull of vintage-for-vintage sake and surround yourself in soft ivories and peachy-creams, just becuase that's all you're seeing on your favorite wedding blogs.
However, if your heart and soul live in another era, and that is YOU, then go vintage-crazy. Just keep it real. Keep it about you.
Believe, me…it's okay to be yourself. And I think expressing yourself and your originality in whatever form that takes will be the next wedding trend.